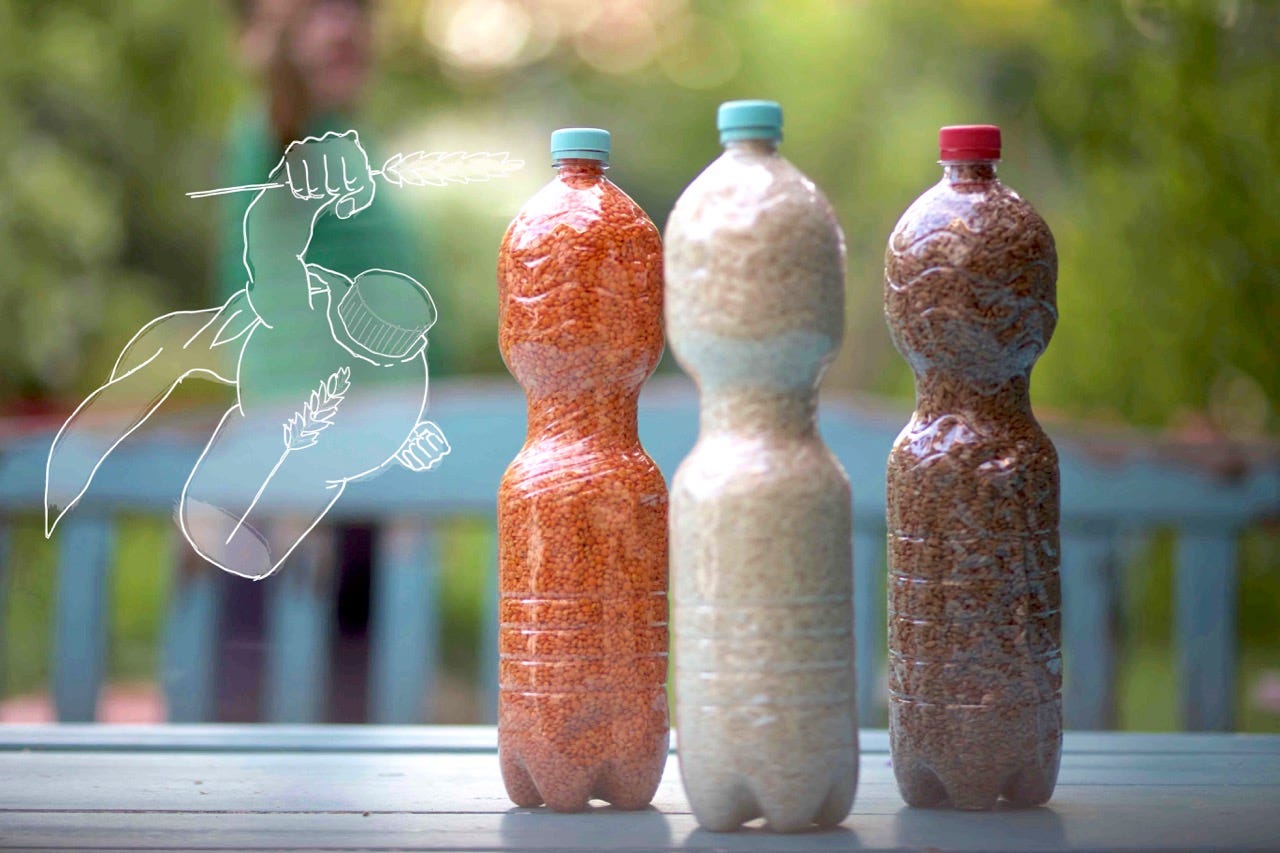 Vacuumhero
Post-harvest food losses are a major problem, especially in developing countries. One way of preventing losses caused by rats, insect infestation and mould is to vacuum food (cereals, rice, etc.) in plastic bottles. Small-crop farmers in Africa, Asia and South America can vacuum their own stocks.
Make a big difference with simple things!
In many countries there are up to 35% post-harvest losses, because grain
- is improperly stored and moulds
- is eaten by insects or rodents

Hunger in the poorest countries of the world must be reduced. Small farmers can effectively protect their stocks from rats, insects and mould with an extremely simple and cost-effective method. All they need is a conventional plastic syringe ($1 to $3) or a converted bicycle pump and PET bottles to preserve their food in a vacuum.
Tests have shown that the vacuum in PET bottles can last for up to 2 years.
The page linked here provides data on post-harvest losses of cereal grains in sub-Saharan Africa: www.aphlis.net
The principle
Vacuuming works with vacuum and ambient pressure. The lid of the bottle sucks itself in and acts as an intermediate valve.
Vacuuming a bottle with a lid
1. the air is sucked upwards from the suction bell

2. the lid is lifted and the air flows out of the bottle

3. As soon as the syringe has reached the top position, air flows into the suction bell and achieves ambient pressure
4. the lid is pressed onto the bottle and sucked in by the vacuum in the bottle so that the opening is closed
5. if the lid is then screwed tight, the vacuum in the bottle will remain for many years
Inhalte von Youtube werden aufgrund deiner aktuellen Cookie-Einstellungen nicht angezeigt. Klicke auf "Zustimmen & anzeigen", um zuzustimmen, dass die erforderlichen Daten an Youtube weitergeleitet werden, und den Inhalt anzusehen. Mehr dazu erfährst du in unserer Datenschutz. Du kannst deine Zustimmung jederzeit widerrufen. Gehe dazu einfach in deine eigenen Cookie-Einstellungen.
Zustimmen & anzeigen
The vacuum process
The film shows how to vacuum grain in PET bottles using simple means and has english subtitles:
About us
We are three families from the Münsterland region who have a solution for two major problems in developing countries: hunger and plastic waste.
The reason for our project has been the discovery of how to preserve food using simple means: the use of PET bottles as containers and the storage of grain or other small foodstuffs (such as rice or lentils) in a vacuum. This works with simple things that almost anyone has access to. Our inspiration are the $1 glasses and similar projects, which achieve a lot with a little.
Press
The crowdfunding at Startnext for the financing of our initiative Vakuumheld has been reported in various media outlets. We were extremely thankful with the commitment shown by so many people in support of us. All publications are in German, so they are not shown here. A special thanks go to Wally Thielker and the children of class 4d at the Ludgerusschule Hiltrup!

And also a special thanks to Luka Franssen, Münster, who translated the text on this website.